Sample Overnight Pack Trip Itinerary
Skyline Guest Ranch and Guide Service, can take you camping anywhere in Yellowstone Park (in designated backcountry stock campsites) and in the Absaroka-Beartooth Wilderness area near Cooke City, Montana.
To give you a taste of what you may experience on backcountry overnight camping trips, I will attempt to describe an overnight camp and also a

multi-night camp

; the scenarios described may or may not be typical, as every trip is unique in its' landscape, trail terrain, picturesque qualities and the weather, wildlife and other factors are all part of the adventure.
Overnight in the Pebble Creek Camp
You meet your guides/packers/wranglers at the Warm Creek Trailhead just inside the northeast entrance of Yellowstone National Park at about 8 a.m. Your guides will pack your personal gear into panniers and then pack the panniers onto the mules. By mid-morning you will be riding up "The Stairway to Heaven" a beautiful trail among the pines that climbs steadily up the face of the Barronette peak range, the view is phenomenal! You will cross creeks and ride through high alpine meadows before reaching your campsite # 3P4 just up the hill from where Pebble Creek is babbling among the willows. Everyone will have worked up an appetite as you pull your sack lunches from your saddle bags and enjoy a picnic while overlooking the beautiful mountain landscape.
As the camp is set up, you may take your fly rod down to the creek or sit on a rock to read a book, take a hike to stretch your legs or just relax in this rustic paradise. Soon the sun will be lowering in the western sky and the smell of wood smoke will waft on the breeze as the dutch ovens are lowered into the coals and dinner is prepared. After dinner you listen to the stories around the campfire, and tell your own tales before everyone heads to the tents for the night.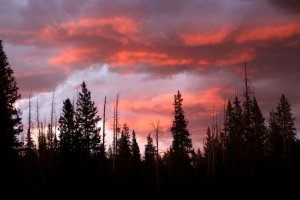 The stars are so close you think you could reach them in the clear summer sky. There may be the hoot of an owl or the howl of a wolf in the distance. You are careful to follow the guides' instruction not to bring any food into the tent and you keep the bear spray close just for comfort. The sleeping mats provide a small cushion between you and the earth as your eyes close.
You awaken to the smell of cowboy coffee brewing over an open fire and bacon sizzling in the dutch oven. After a hearty breakfast there is time for another round of fishing or hiking, exploring or relaxing while the camp is packed up. By mid-afternoon the mules are all packed and you are again riding your trusty horse down the mountain trails to the trailhead where it all began just yesterday. The time and distance you have traveled are really quite short but the memories will long be revisited.